Creating Clips from TiVo Recordings
In this article I will explain the process I use to create and save edited clips from recordings made on my Series 3 TiVo using software on my OS X Macintosh and later transfer those clips back to the TiVo for viewing.  First of all I want to thank Alex for allowing me to guest star here on TiVoBlog.com. I appreciate the opportunity to share this information with all of you. This site is the perfect venue for my article.
First a quick background on me; I have been a TiVo user for a long time but only recently have the features like TiVoToGo become available to me. I never owned a Series 2 TiVo, I jumped from an original upgraded Phillips 14 Hour TiVo to a Series 3 and as I'm sure you many of you know, TiVoToGo wasn't enabled on the Series 3 until October 2007.
There are a couple things I like to watch on TV that prompted me to figure out how to do what I'm about to explain to you. First I like Saturday Night Live and second I like Music Videos. Both types of programming are perfect for this process. Saturday Night Live for example is a show made up of several short skits. Out of an hour and a half episode, there might be one skit that I want to hang on to so that I can watch it again or share it with my friends at a later time. Music Videos are the same, I am blessed that my local cable provider offers MTVHD in my area. There are some decent music videos in High Definition from time to time on MTVHD that I would like to be able to watch whenever I choose. However, much like my SNL recordings I don't want to keep an entire hour block on my TiVo hard drive, I may only want one 5 minute or less video out of an hour long block.
My criteria for editing video is that I be able to retain the full high definition resolution if the show originally aired in HD and also to retain the full surround sound audio, again if the program aired in 5.1 surround. Finally, I want to be able to watch my clips in my living room, on my 58 inch screen, from the comfort of my couch, with my 6 speakers blazing if I'm in the mood to rock the house. My point is that my home theater offers a better experience than the 15-inch screen and two tiny speakers in my MacBook Pro. This process, I'm about to share with you meets all of those requirements.
There are a number of pieces of software I use to make this happen so rather than explain each one along the way, I thought it would be best to give you all the information up front along with hyperlinks for your convenience.
TiVo Desktop 1.9.3 for Mac OS X – Free
TiVo Transfer – Included with Roxio Toast 8 Titanium – $80
TiVo Decoder – AppleScript Droplet – Freeware
MPEG Streamclip 1.9 – Freeware
Apple QuickTime MPEG-2 Playback Component – $20
TextEdit – Included with Mac OS X (No link here folks)
VLC Media Player – Freeware (Optional)
Now, if you have experience with TiVoToGo on a Macintosh, you may question my software choices and that's fine. If you have another application that you prefer, feel free to substitute it where you see fit. These are just the applications I use and the ones that I have found work best for me.
A few caveats… First, I'll tell you how to use these applications with the goal that I have outline above, I'm not going to tell you how to install them. I assume you already know how to do that. Second, I assume you already have your TiVo and your Mac hooked up to your home network. This process should work with any Series 2, Series 3 or TiVo HD DVR. Third, I assume you have a basic knowledge of how to use and navigate you Mac.
Part One – Download an Episode from the TiVo to your Macintosh
The first thing we need to do is download some video from the TiVo on to the hard drive of our Mac, to do that I use TiVo Transfer. This application is included with Roxio Toast 8 Titanium. The first time you use TiVo Transfer you're going to need to enter your Media Access Key or MAK. First launch TiVo Transfer from the Toast 8 Titanium folder in your Applications folder. From the TiVo Transfer menu, choose Preferences and then select the Media Access Key Tab. Enter your Media Access Key on this screen. If you don't know how to get your MAK, it's explained in this window. When you get your MAK, write it down you're going to need it again later.
Once you have input your MAK you should be able to see your TiVo DVR in the TiVo Transfer application. With your TiVo selected from the sidebar on the left side of the screen, pick a program you want to transfer from the TiVo to the hard drive of your Mac. For this example, I am going to transfer a short recording I made from MTV Hits. I aborted the recording early just to save time for this article, that's why the duration is only 8 minutes.
With the program highlighted as shown in the above image, click the Start Transfer button to download the program to your Mac. The time it takes to transfer the show to your computer will vary based on the size of the program in megabytes, the longer the show, the bigger the file size. If the program is High Definition it will also be much larger than a standard definition program and thus take longer to transfer. While the transfer is happening, you can click on the Active Transfers entry in the sidebar to monitor its progress as shown below.
Please note, for some reason my example file shows that it's 1 GB in size when in reality it's only about 150 MB. I don't know why that is but don't worry, 8 minutes of standard definition video does not take up 1 GB of space.
Once the program has fished downloading, it will be placed on your hard drive in a folder called TiVoShows (by default) inside your user folder.
Part Two – Decode the TiVo File to a Standard MPEG-2
The next step is to remove the TiVo encoding and save the file as a standard MPEG-2 so that it can later be edited using MPEG Streamclip. I use TiVo Decoder for this. TiVo Decoder is a simple Apple Script droplet that relies on a command line tool called tivodecode to convert the video clip. Don't worry, you don't need to know any UNIX command line for this. Everything you need is bundled into the download I pointed you to at the beginning of this article.
If this is the first time you have run TiVo Decoder, just double-click on its icon to launch the program. There will be an informational screen that tells you about the application. Once you have read the information, click Run to continue. The next screen is going to ask for your Media Access Key. Enter your MAK and click OK.
At this point TiVo Decoder will quit. Don't be alarmed by this, that's expected. What you need to do next is drag-and-drop the TiVo program you downloaded on to the TiVo Decoder icon.
At this point Tivo Decoder will process the video file you dropped on to its icon. Your only progress indication will be the old school black and white beach ball cursor rotating and the TiVo Decoder icon in the dock. When TiVo Decoder is finished decoding your video its icon will disappear from the dock and you will be left with a copy of your video clip in the same folder as your original video file as shown below.
The new file has the .mpg extension and the standard QuickTime icon. This is the file that we are going to work with from now on.
Side Note: At this point you could playback the converted MPEG-2 video file. I recommend using VLC for playback as I sometimes have problems playing back the converted video files in QuickTime player. I can see the video in the QuickTime player but I cannot hear the audio. VLC plays the files just fine.
Part Three – Editing the Clip with MPEG Streamclip
The next step is to edit the converted video file with MPEG Streamclip. Before you can get started with MPEG Streamclip though, you need to have the Apple QuickTime MPEG-2 Playback Component installed on your system. You can use MPEG Streamclip without this component installed but you won't be able to open MPEG-2 files. The converted TiVo file you'll be working with is in the MPEG-2 format so you're going to need the MPEG-2 Playback Component installed before you can go any further.
If you have the MPEG-2 Playback Component installed, launch MPEG Streamclip and open your converted mpg file by dragging it from the Finder to the MPEG Streamclip window (drop your file on top of the dice square in the middle of the screen). MPEG Streamclip will take a few moments to process your file and then it will open and show you the first frame of your video.
The video clip in my example has the parts of three unique music videos and I want to retain the second music video in this file. Using the scrubbing control at the bottom of the video I'm going to drag the marker, which looks like this )( to a point near the beginning of the second music video in this clip. As you drag the marker from the left to the right, the video will change so you can see where you're at in the file. I suggest you find the beginning of the clip you want to retain and then backup just a bit. That's what I have done in the screen shot shown below.
At this point you can use the left and right arrow keys on your keyboard to move through the video frame by frame.
Important Note: Editing MPEG-2 files with MPEG Streamclip is not frame accurate. MPEG Streamclip cuts video at the GOP or keyframe interval. MPEG packs frames into GOPs (Group Of Pictures). According to the help file included with MPEG Streamclip, these GOPs are usually about 1/2 second in duration. What this means is that MPEG Streamclip is only accurate to about 1/2 second intervals. If you want to learn more about GOPs you can Google it. I wanted to point this out because when I first started I couldn't understand why my edits didn't happen at the exact frame I had selected. It would have helped if I had just read the manual in the first place.
Knowing this what I recommend you do is use the left and right arrows on your keyboard to get to the point where you want to make your edit and then use the up or down arrows to jump to the previous or next keyframe. If you find this is not working for you, try dragging the marker back a bit in the video and then just press the down arrow to jump to the next keyframe a few times until you get to a keyframe where you want your clip to start. I recommend you select the keyframe before the one you think you want that way you won't miss any action when you playback the file later on your TiVo.
The picture above shows a frame from the ending of the first music video in my example file from there, I pressed the down arrow one time and I jumped to the screen shown below which is right at the beginning of the second music video. This is where I want my clip to start.
With the keyframe where you want your video to begin showing on screen go to the Edit menu and choose Select In or just simply press the letter "I" on your keyboard for In. This tells MPEG Streamclip that you want your new clip to start here. You'll see the timeline change so that all of the video before the marker is shown in light grey and everything after the marker is in a darker gray. Now that you have marked the In point for your video clip the next step is to find your out point and mark that as well. We'll do that in the same way we found our In point.
Start by dragging the marker further to the right and find a point near the end of the clip that you want to retain. When you have found the end of the clip, move the marker back just a bit and then press the down arrow to find a keyframe near the point where you want your clip to end. With your ending keyframe showing go to the Edit menu and choose Select Out or simply press the letter "O" on your keyboard for Out. As with selecting your In point I recommend you choose the keyframe after the one where you think you want so you don't miss any of the action later when you playback the video on your TiVo. Remember, your TiVo likes to display the message about keeping the video or deleting it when it reaches the end of a file. If you select an out point that's too early for your out point, that message might pop up too soon. An extra couple seconds at the start and end of the clip is better than a clip that's cut off on either end.
In the photo above I am on the Out point for my video clip and you can see that the timeline is a darker gray indicating the portion of this file that I have marked for editing. At this point you are going to tell MPEG Streamclip to throw away all of the video before your In point and after your Out point leaving you with just the portion of the video you want to retain, to do this go to the Edit menu and choose Trim or press Command-T on your keyboard. When you do this MPEG Streamclip will take a few moments to process your video and then display a new timeline with your start and end points as the beginning and end of your clip.
At this point you can playback your clip in MPEG Streamclip to see if you're happy with your edits. If your not happy with the start and end points, choose Undo from the Edit menu and repeat the process. If you're satisfied with your work it's time to save your new video clip. From the File menu choose Save As…, give your clip a new name and save it in the TiVoShows folder inside your User folder.
MPEG Streamclip will take a few moments to save your new video clip to your hard drive. A progress bar will be shown while that is taking place.
That's it for the editing. You're done what that part now you just need to get your video clip back on to your TiVo where you can watch it anytime you like.
Before we move on, I'm going to suggest a little cleanup of your TiVoShows folder. Right now your TiVoShows folder looks something like this screen shown below.
The first file that I have highlighted is the original file you downloaded from your TiVo using TiVo Transfer. The second file I have highlighted is the converted MPEG-2 created by TiVo Decoder. Unless you want to edit these files again later or retain them as archives, you no longer need those two files. Theses files will eat up a lot of space on your hard drive if you choose to keep them. An hour-long program in 1080i High Def seems to average about 5.5 to 6 Gb and remember, you now have two of these files, the original and the converted clip. If you no longer need the files go ahead and drag them to the trash. If you still want to keep these files move them to another folder for safekeeping. Moving the files out of your TiVoShows folder will also make things less confusing when you go to transfer your new clip back to the TiVo later on in this tutorial. So with your two program files in the trash, all you'll have left in your TiVoShows folder is the clip that you made with MPEG Streamclip. Your folder should look like this one shown below.
Part Four – Preparing to Transfer Clips Back to Your TiVo
In order to transfer your video clip back to your TiVo you will first need to have the TiVo Desktop software installed on your computer and you will need to enable a hidden feature of that software commonly known as TiVoGoBack in the TiVo community. When you install TiVo Desktop on your computer it installs a new System Preference pane called, you guessed it, TiVo Desktop. By default TiVo Desktop doesn't show you the option to enable video transfers. You can unhide this option by holding down the option key every time you launch TiVo Desktop but that will become old rather quickly, so I recommend you use the TiVoGoBack enabler to reconfigure TiVo Desktop so that the Videos tab is available all the time.
Rather then tell you all the steps you need to do that here; I'm just going to refer you to another post from right here at TiVoBlog.com that tells you how to do just that.
Once you have TiVo Desktop installed on your computer and you have the TiVoGoBack feature enabled. Your TiVo Desktop System Preference pane should look like this screen shot below.
Make sure you have entered your Media Access Key and check the box for Publish my videos. You'll also want to make sure that the path to your TiVoShows folder is correct. The name field is just a descriptive name that will be used to identify your computer when you browse to it from your TiVo. By default this will be your Computer Name but you can change it if you like. Now that all the options are set, you're ready to start TiVo Desktop, if it's not running already. Click the Start button if your screen says TiVo Desktop Off under the TiVo logo.
Now that TiVo Desktop is running, you'll find a new file in your TiVoShows folder. The file will have the same name as your video clip but with the extension of .properties. This file tells your TiVo the title and description of your clip. The good news is that you can edit this file with a text editor.
Launch TextEdit and open up the newly created .properties file. It will look like the screen shot shown below.
As you can see the file contains three lines. The first line is a date stamp from when the file was first created. Don't bother changing that it won't have any effect on the date shown on your TiVo. The second line begins,
description=
This line can be edited to contain your own custom description for the video clip you are going to upload to your TiVo. You can type a short paragraph here and it will show up on the details screen when you press the select button on your TiVo remote. Just like the descriptions that you see with all your normal recorded content.
The third line begins,
title=
and will be followed by the file name of your video clip. You can edit this line to whatever you want it to be. What you type here will show up in your Now Playing list as the title of the video clip.
When you make edits to this file make sure that you do not change the structure of the file, only change the description and the title like I have shown in the screen shot below.
When you are satisfied with your title and description, save the .properties file and close it. I have found that just saving the file is NOT enough to get the TiVo to recognize the changes you have just made in the .properties file. If you were to go to your TiVo right now you would find that the TiVo will still report the title for your video clip as the file name and the description will be blank. What you need to do at this point to get the TiVo to recognize the changes you just made is to return to the TiVo Desktop System Preference pane and restart the service. Launch System Preferences again if it's closed, click on TiVo Desktop and click the button under the TiVo logo marked Stop. The status under the TiVo logo will now read TiVo Desktop Off. Then just click the same button again, now marked Start. That seems to be enough to get the TiVo Desktop software to advertise to your TiVo the updated information you typed into the .properties file.
One word of caution here, in the future you may be tempted to create your own .properties files by performing a Save As on one of the existing files on your hard drive. Don't do that. I experienced problems trying to transfer clips back to my TiVo when I tried that. When I went to my TiVo and tried to initiate a transfer it would just give me some error message telling me that it couldn't get any video clips from my computer. In order to make sure you don't run into problems, just allow TiVo Desktop to create the .properties file and then edit it as I have described above.
There is no way to initiate the transfer of the video clip from your Mac you have to go to your TiVo to initiate the transfer but before you do that let's just recap the requirements are all met on your Mac. First your Mac and your TiVo must be on your home network. TiVo Desktop needs to be running on your Mac, you need to have enabled the hidden Videos tab, and Publish my videos needs to be checked off. You also need to make sure that your Media Access Key is entered in TiVo Desktop and that the TiVo Videos folder location is pointing to the folder where you have your video clip. Your TiVo Desktop System Preference pane should look similar the one shown below
Got all that? Good. Now you're ready for the final steps of transferring that video back to your TiVo.
Part Five –Transferring Clips to Your TiVo
Go to your TiVo and select Now Playing from the main menu using your TiVo remote control. Once you're at the Now Playing screen scroll all the way to the bottom of the list and you should find an entry that matches the Name field from TiVo Desktop on your Mac. It will be your computer name unless you changed it. The entry will also have an icon that looks like a computer rather than a yellow or green circle. Your TV should be look similar to the picture below.
Select your computer with your TiVo remote by pressing the Select button. You will now be taken to a screen showing you all of the video clips available to transfer back from your Mac to the TiVo. In our example we deleted the original files or at least moved them out of the TiVoShows folder so you should only see one item listed, if you followed the directions up until this point. The title of your item should match the title that you typed into the .properties file on your Mac. You can see what my TV screen looks like below.
Since there is only one item here, press the Select button on your TiVo remote to show the details screen.
There it is, the details screen shows your custom title and your custom description. I was so excited when I first saw this screen. All that's left to do now is transfer your video clip. Press the Select button on your TiVo remote to begin the transfer.
After you press select you'll see the standard TiVo Please Wait screen for a few moments and then you'll be shown the following message.
I suggest you just wait for the transfer to complete before you begin playing your new clip but you can start playing the file right away but as this screen warns you may experience pauses.
The time it takes to transfer the file back to your TiVo will vary based on a number of things including the size of the clip your transferring, how busy your TiVo is at the moment, and the speed of your network connection. Longer clips will be larger in size and therefore take longer to transfer. If your TiVo is busy recording two High Definition shows it may take a little longer for it to fetch your video clip than if it was just sitting idle. If your Mac, your TiVo, or both components are on a wireless network, it may take a little longer to transfer your clip than if both were on a traditional wired network. Just be patient here and let the TiVo do its thing. Your video clip will transfer; it may just take awhile to complete. On the Series 3 TiVo a blue LED will light up on the front of the unit while content is transferring over the data network. I don't know if the Series 2 or TiVo HD have lights to indicate data transfers.
While the transfer is in progress, you will be able to see your new video clip in the Now Playing list with a blue circle icon next to it indicating that the transfer is still in progress.
When the transfer completes the blue circle will disappear and the clip will be treated just like any other TiVo recorded program. You'll be able to mark the clip, to prevent the TiVo from deleting it if you choose.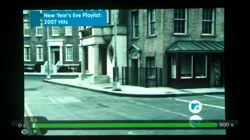 That's it, when your video is done transferring, sit back and enjoy. One thing you may notice is that the TiVo shows the duration of your video clip in seconds rather than in minutes. I don't know why that is but it doesn't bother me.
I hope you enjoyed my tutorial and I hope that you found it informative. If you have any questions feel free to post them in the comments and I'll do my best to answer them. Once again I would like to thank Alex for allowing me to share this with all of you on TiVoBlog.com.
– Todd Barber
About Author